Greg French Early Photography
Large Ambrotype
of an English Lady Holding a Cat,
with a Dog at her Feet.


Cased Tintype
of a Solider
Playing Guitar & Lady Friend.

"... the attached ambrotype shows 2 brothers named Keast from Penzance, Cornwall, England.
They went to the gold diggings in California in the 1850's
and returned to England around 1860..."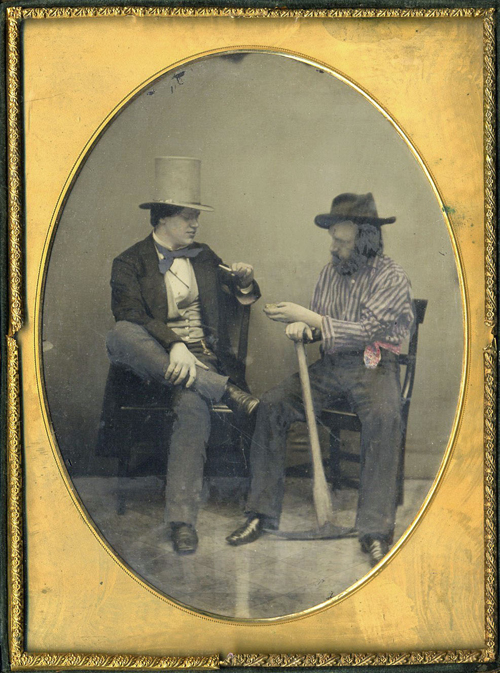 | | | |
| --- | --- | --- |
| | Tintypes taken during George B. Cooley's purported 31 day fast, to cure rheumatism, in 1901. | |
Albumen photograph of Abraham Lincoln by Alexander Hesler.
Featured in the book,
*Lincoln in Photographs: An Album of Every Known Pose*,
by Charles Hamilton and Lloyd Ostendorf.
An excerpt from the caption in the book: "Wrote Lincoln's law partner, William H. Herndon:
'There is the peculiar curve of the lower lip, the lone mole on the right cheek,
and a pose of the head so essentially Lincolnian; no other artist has ever caught it.'"



The Bengal,
North Point, San Francisco
Stereoview
by
Carleton Watkins
Guitar Playing Soldier
&
Lady Friend


"I Sell The Shadow To Support The Substance,"
Sojourner Truth
CDV.

Ambrotype with Diary and Period Note
Diamond Springs California Gold Mining Settlement.



Diary. '... I am now at diamond Springs to work in the mines forty five miles from Sacramento. I have ben here almost two weeks. I have found some gold. I have made from two to six dollars a day while I have ben here .... Supose you would like to know what kind of a place this is here. I can tell you this is a hard place. There is a great many folks here that wood be glad to go home if they could and they could after a while if they would save their money but there is a gambling house close by here. I have ben in there and see men loose the last cent they had and I have seen some win 40 and 50 dollars on a few minutes and then go off and got drunk and come back and loose it all again and some will work all day and spend it nights. That is the way with one half of the folks in Calafornia. I should never expect to get home at that rate....... William Pitt... Diamond Springs Callafornia."
The period note says "Calif. Large Building, gambling house. William Pitt's house where men stand." One can see the gambling house over to the left, and William Pitt's house to the right.

Quarter plate daguerreotype of Lajos Kossuth (1802 - 1894),
who was a Hungarian lawyer, journalist, politician and
Governor-President of the Kingdom of Hungary during the
revolution of 1848–49.
Postmortem of an infant from above.
White on White
Daguerreotype


Blue Sky
Illuminated
Daguerreotype


Civil War Sergeant
with Pistol and Sword .
Cased Tintype

1870 PHOTOGRAPHY EXHIBITION WITH EXHIBITS
BY E. & H.T. ANTHONY & SCOVILL MANUFACTURING CO.
FIVE STEREOVIEWS
Featuring one of the largest and most exhaustive photographic displays in history.
At one end of the exhibit hall are banners:
ELEVATE YOUR ART AND IT WILL ELEVATE YOU. PHOTOGRAPHY 1870. AMERICA. EUROPE.
Signs in the E. & H.T. ANTHONY exhibit:
E. & H.T. ANTHONY & co. 591 BROADWAY NEW YORK.
ANTHONY'S DEPARTMENT
STEREOSCOPES VIEWS AND ALBUMS
SAMPLES OF PHOTOGRAPHIC CHEMICALS
CELEBRATED DALLMEYER LENSES
GRAPHOSCOPES... ORDERS RECEIVED... HOLIDAY TRADE...
There is also a SCOVILL MANUFACTURING CO. exhibit sign:
SCOVILL MANUFACTURING CO. 4 BEEKMAN ST. 36 PARK ROW. NEW YORK.



Amherst College Class of 1864
CDV Album

Cabinet Photograph of a Dentist
advertising his services.
His crown, sash, and cuffs
are covered with various dental
implements and tools.
Lincoln Sign
Painter
Carte De Visite

King of Siam
Antique
Photograph


Harriet Tubman
Cabinet Card
Photograph
Matilda Gage and her daughter, Helen.
Gage was a suffragist, activist, aboltionist,
author and freethinker. She was also the
mother-in-law of L. Frank Baum,
author of the Wizard of Oz.
Daguerreotype

Blacksmith
Daguerreotype

2 cricket players,
one with a 'Field Captain' belt.
Also featured are the bat, ball and wickets.
Quarter Plate Ambrotype
Actors in Blackface CDV Collection by James Wallace Black
Canadian daguerreotype of a volunteer fireman
by Henry K. Sheldon.
Identifying inscription on inside of case:
"Mr. Joel Shiels. Kingston. May 24th 1856. Sheldon Artist."





Daguerreotype of
Major Emin Bey,
of the Ottoman Empire Navy,
sent to the U.S. in 1850 as a Turkish envoy.

Highly unusual pair of crisp quarter plate sized INDUSTRIAL SCENE DAGUERREOTYPES.
Note that this is the Industrial Revolution in a rural setting.
Prisoners
Many identified, including women, from Sacramento, California.
Large lot of albumen photographs dating as early as 1860s.



Half plate tinted daguerreotype
of gold miners. In between the
tinted miners, in the background,
somebody raises a fist in triumph.


Quarter plate daguerreotype
of 3 Gold Miners exhibiting

camaraderie in an artful pose.

Gold mining scene
featuring 6 miners.
Half plate Daguerreotype

Tintype
of
Sleeping
Photographer

8 men at Sikes Store
Eden, New York
Daguerreotype
Earliest Known Pictures of the Ku Klux Klan
Pair of Cartes de Visite (CDVs) feature earliest known photographs of the Ku Klux Klan (1867 & 1871).
Period ink, on reverse of each, describes law enforcement's role in apprehending them.
| | | | | |
| --- | --- | --- | --- | --- |
| | Indiginous People | of the | South Pacific | |
| | | | | |
4 Cartes De Visite
President Lincoln's Inauguration

Stereoview